Hi quys! Here's my one and only top 10 chickflicks on Netflix. These are all very romantic. If you're not really into that kind of movies, I would not expect too much of this list. I've tried not to pick the cliché ones, like Mean girls. I hope you'll like it!
10. Friends with Benefits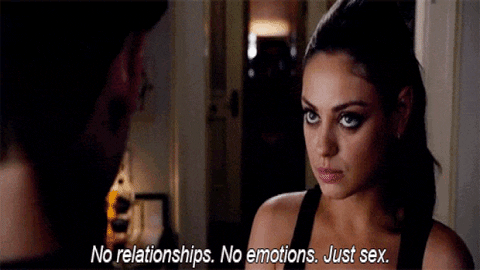 Of course I had to put this one in the list. Justin Timberlake and Mila Kunis are just amazing in this movie. The GIF already says what it's about: Two people, who are having sex, without emotions. They absolutely can't fall in love with each other. How it ends? You'll see.
9. Pretty Woman
Julia Roberts just had to be in this list. In this movie a hooker meets a rich man. They have a lot of fun. Will they fall in love?
8. Crazy, Stupid Love
Ryan Gosling and Emma Stone, the perfect couple. And I mean, look at that damn hot sixpack. What movie is better than this one?
7. Sex and the City 1&2
The serie was already great, but the film is even better. I just love it how these four women do whatever they want to do.
6. Stuck in Love
"There are two kinds of people in this world. Hopeles romantics and realists." This quote already says enough.
5. Valentine's Day
Just with a lot of love.
4. A Walk to Remember
If you don't want to cry, I wouldn't watch this movie. This movie is literally the only movie where I've cried. I hope I'll ever find a person who loves me like they love each other.
3. He's just not that into you
Why doesn't he call me back? Why is he such a jerk? Have I done something wrong? Well, girl, he's just not that into you!
2. Dear John
They meet each other, they fall in love, he has to leave. Are they gonna stay together?
1. Letters to Juliet
This is my all time favorite. The romantic Italian landscape makes it even more fun.